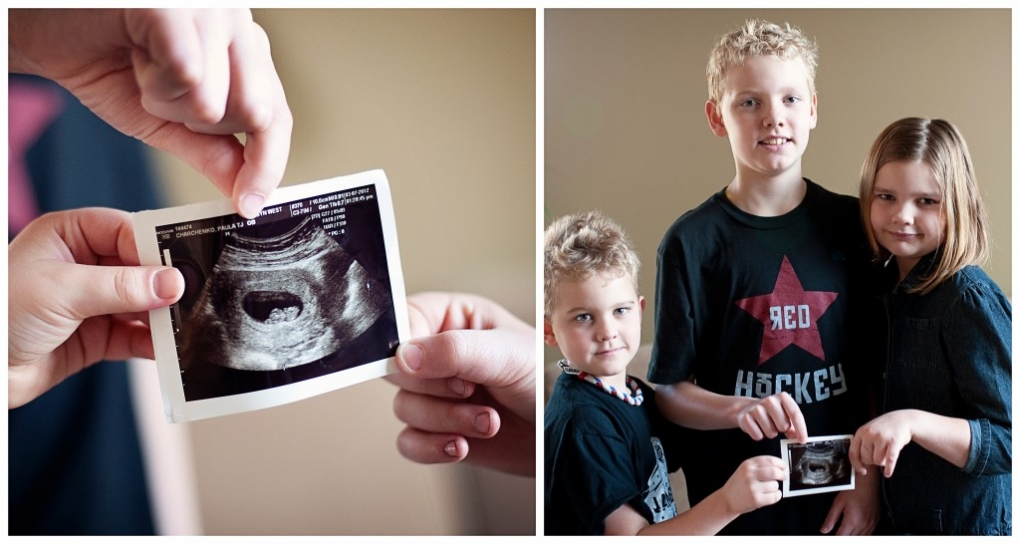 So we've got some BIG NEWS to share… if the photos above don't say it all, I will; We are expecting #4 the first week of October!
Now that we've wrapped our heads around this, we realize how blessed and excited we are for this SURPRISE! The kids are ecstatic, as you can imagine. We're hoping the big age span between them (Nikolai will be 11, Briar 8, almost 9, and Erik will just have turned 7) will be helpful.
So, this poses a slight issue with the fact that my busiest months are September and October. People tend to prepare for Holidays and want the beautiful fall colors in their photos. What I want to ask of you, my wonderful clients, is to try and get into me prior to September. My other 3 pregnancies went super smooth, I felt great and was at times seen running down the street at just about full term chasing one of my other kids. BUT, I am older (I mean wiser) this time and am not too sure how the last month will treat me.
I've been working on how to schedule my sessions and when to take some time off. My plan is to wrap up the first part of September and enjoy the last month of pregnancy, and prepare for this little one. The baby is due the 1st week of October so I will for sure be off that month, then depending on how I feel, I may want to start shooting a bit mid November.
I'll have lots of sessions times available starting in June during the week (days AND nights; I love the yummy night light in the summer) and 1-2 weekend sessions a month. I will mainly be shooting Monday, Tuesday and Wednesday.
In addition, I'll try and hold monthly mini session events. Below are the Mini Session Events I have planned and some that are planning in the works. If you think you are interested in one of these mini session events, please contact me ASAP as that will help me decide not only if I should continue to plan them, but also help with locations.
These 3 are set in stone and are filling fast
SATURDAY 4/28 — Mother/Child Mini Session
WEDNESDAY 5/02 — Mini Session — In the Blooms (evening)
SATURDAY 5/05 — Mini Session — In the Blooms (evening)
These 4 are still in the planning stages
SATURDAY 6/23 — Urban Mini Session Event
SUNDAY 7/22 — Stillwater Mini Session Event
SUNDAY 7/29 — Beach Mini Session Event
SATURDAY 8/18 — Open Field Mini Session Event
Here are some ideas/locations I would love to tackle this summer. We can work these ideas into your session, and have a lot of fun "styling" them.
Green House
Junk Yard
Old Abandon Gas Station
Your lake home/cabin
. . . and many more ideas too 🙂
Let's get creative, trees and flowers are great, but does it REALLY say who your family is?
Ok, so I've rambled more than I like to in a post… that's it in a nut shell. Lot's going on in the Charchenko House, I am sure yours is busy too getting ready for summer and all the fun outdoor activities. Make sure your photos are on your radar and feel free to contact me with any questions or scheduling ideas.
Thanks and much love,
Paula